Everyone is Welcome to Join the #PALibChat
Everyone is Welcome to Join the #PALibChat
If you are on Twitter, you may have seen the monthly #PALibChat Twitter Chats.  (Please note that #PALibChat is not formally sponsored by PSLA but is a great way for members and nonmembers to discuss issues.)
If you are not familiar with a Twitter Chat, a moderator asks a few questions about a predetermined topic and followers answer. As you answer, use the #PaLibChat hashtag, and feel free to connect with people who are also chatting. If you aren't able to make the live chat, you can search the hashtag, read what others shared and add their thoughts.
This year, we've discussed the following:
Literacy, A Gift to be Thankful For

Supporting Free Choice Reading
Best Books for 2018
Best of Romance for MG/YA
Design on a Dime
How to Keep the Momentum Going Despite Testing
Moderators volunteer for a month and choose a topic they are interested in. We schedule the chat time and date around our moderator volunteers. Thank you to the following people who have hosted chats so far this year: Ellen Stolarski (@emstolar), Jenn Roth (@jroth080), Nadine Poper (@NadinePoper), Kim Mento (@wordsofmento), Corey Hall (@rchallway), Kristina Holzweiss (@lieberrian) and Janice Conger (@congerjan).
The next #PaLibChat will be on Tuesday, May 14th from 7:30 pm - 8:00 pm with Heather Lister (@heathermlister) and Allison Mackley (@amackley).  The focus: "So what exactly do you do?" (How to Share School Librarian Efforts with Stakeholders)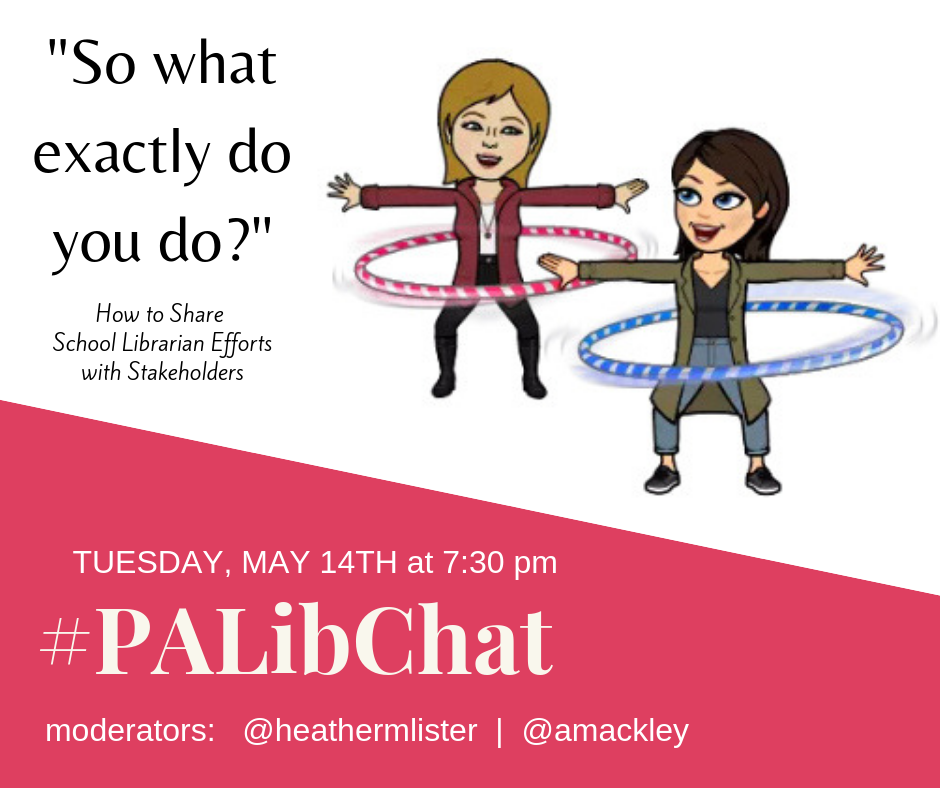 Are you interested in helping out as a moderator for a future #PALibChat? Contact Ellen Stolarski at [email protected].

Share this post: