AASL Best Websites & Apps: Kapwing
Each week the Teaching and Learning Committee plans to highlight one app or website from either the 2018 AASL Best Apps for Teaching and Learning or the 2018 AASL Best Websites for Teaching and Learning. Share with any stakeholders who may benefit!
This week we will focus on Kapwing. This is a great way to produce and edit video for instruction or for students to create projects. A member of the Teaching and Learning Committee used Kapwing to promote the current top three circulating books in the library. See the Wendover Middle School Library Twitter post.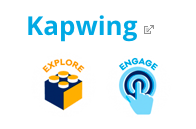 Kapwing provides a multi-tool solution for teachers and students to create everything from video montages and memes, to stop action videos and sound effects. Its simple yet robust platform makes it useful for students of all ages. Teachers can use the various tools to engage students in any subject, and students will use these same tools to showcase their learning and improve presentations. Grades 4 and up. (AASL)
Submitted by: Beth McGuire
PSLA Teaching & Learning Committee
Share this post: