Behind the Scenes: Change is Mandatory
Behind the Scenes - Change is Mandatory - Growth is Optional
"Change is Mandatory, Growth is Optional." (Author Unknown although many have used this quote.)
This has always been one of my favorite quotes. One that I have to say aloud for myself many times as well.  When I was thinking back to June 20, 2019, I had expectations and visions of what my presidential year in PSLA would be like. But as in all things - it's never quite as you imagined.
Our world is nothing like we could have ever even guessed or planned for. Our schools, our libraries, our families, our communities, our social circles, our profession, our association - our world has changed.
My heart aches with that our students missed this school year. It aches for the students who were and continue to be impacted by the pandemic - academically, socially, emotionally, physically and financially. Their families and all around us are impacted each day.
My heart hurts and my blood boils for the school library positions that are being eliminated, challenged and devalued. Many in the name of COVID-19. The tide is overwhelming and each day I wake up and fear what other school librarian or educator will email me about another school library or position that is in danger.
My position as President of PSLA changes tomorrow, July 1, 2020 and I will be Immediate Past President. It would be easy to look back on the past year with regret because of the pandemic and negative setbacks. The cancellation of the conference, the loss of school library positions and the increase of school districts without any school librarians. My own professional position in my school district has taken a hit and will change as of July 1, 2020. All of this negative change could cause me to look back and wish this year never happened.
But choosing to be a leader means that GROWTH is NOT optional. It is up to leaders in any capacity to find the door to Growth in all situations - and if there isn't one - to knock down a wall and make a door.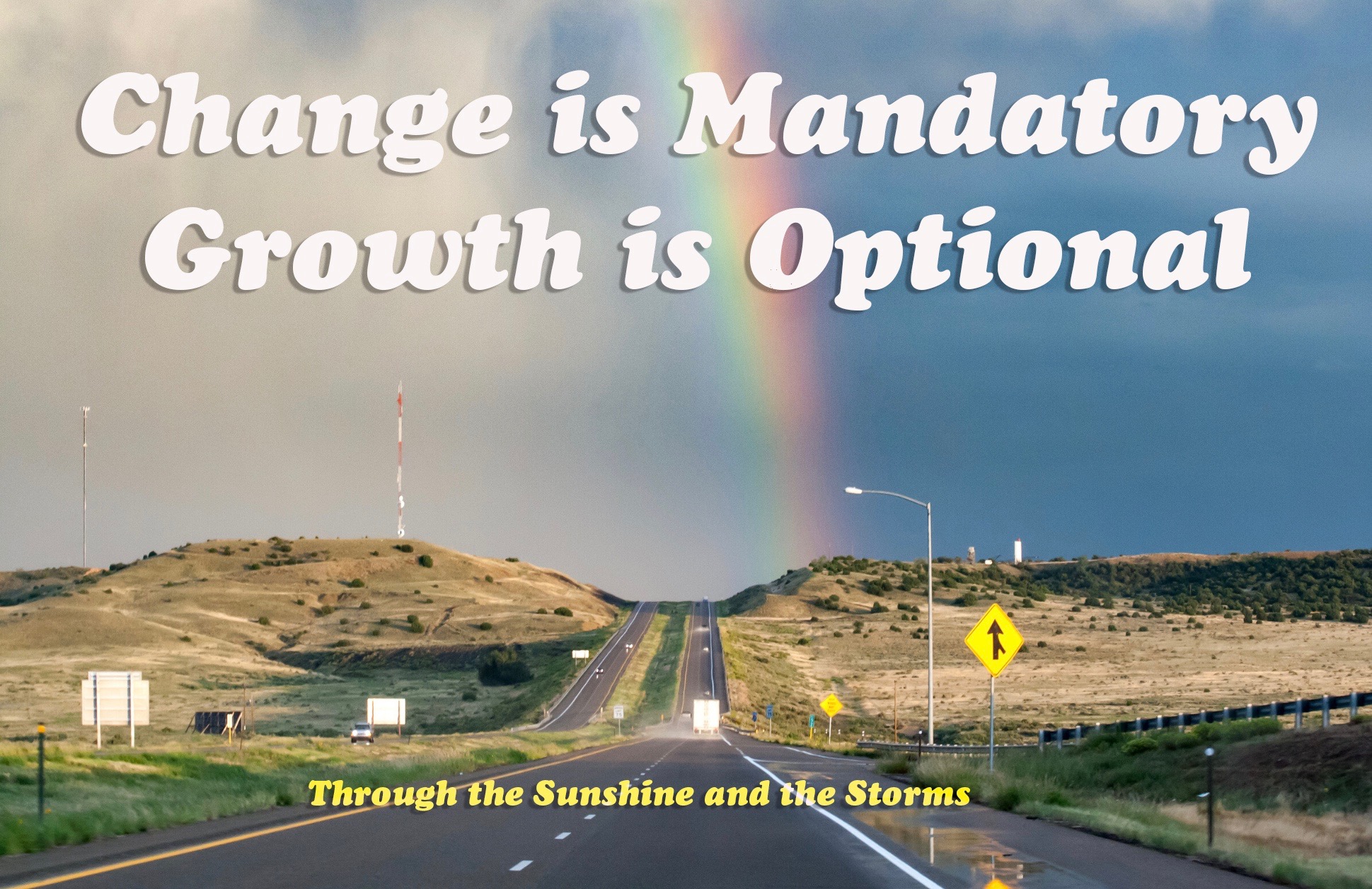 Even in the midst of change that we know to be in direct conflict with our goals and our mission and what we know in our hearts to be right - we must Stay the Course. We must remain strong in our commitment to what we know is best for our students. Regardless of what role we take in 2020/21 in our schools or in our life - we remain school librarians in our hearts and we work toward our goals. ONE CERTIFIED SCHOOL LIBRARIAN IN EVERY PENNSYLVANIA SCHOOL.
I look back over the past year. The challenges, the victories, the relationships, the accomplishments, the frustrations, the new ideas, the learning, the steps we took forward and backward - I look at the road we traveled. 
My goal was to lead PSLA regardless of sunshine or storms. I tried to help the association provide whatever shelter PSLA could build during storms for all school librarians. I hope that PSLA and its members have grown and become stronger, better and brighter through the sunshine we experienced this year as well.
My heartfelt thanks go out to the PSLA Board, Committee Co-Chairs and membership for their hard work and dedication this year. A special thank you to the Hempfield Library Department who are my rock stars and gave me great support. Thanks to all the Past Presidents whose advice and leadership led the way for me. Especially to Allison Mackley whose presidency before me was the perfect road map. Of course, to my husband who put up with my travels, late nights - and so many Zoom meetings that they seemed to take over our home. And to the two people who were my mentors - one of which I wrote about in my first Pulse as President - Marge Tassia and Deb Kachel. You both will forever be the force beyond my Drive.
While I didn't get to show off my fancy shoes at our conference this year - I am confident that Robin Burns as President and PSLA will put on the right shoes for the journey ahead. 
Transforming Lives, 
Cathi Fuhrman, Ed.D.
PSLA President


[email protected]


Library Department Supervisor
Hempfield School District
Twitter @cathi_fuhrman
AASL Chapter Assembly President-Elect
Lilead Fellow


Kutztown University Adjunct
Share this post: